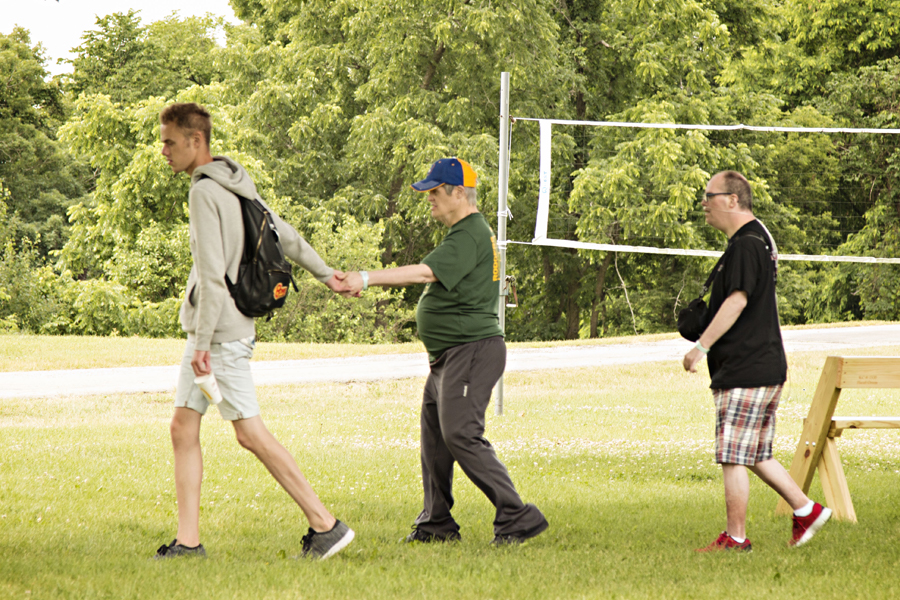 In addition to the Main Camp programs, Badger Camp offers a Travel Program.
The Travel Programs offer a variety of choices from a trip to the Wisconsin Dells to trips out of state. They are limited to 6-16 campers per session and are guided by 2-5 experienced staff members. Both Primitive Camp and the Travel Program are designed for those looking for a unique and somewhat more challenging experience.
2019 Camp Dates

| Dates/Program | Age | Cost |
| --- | --- | --- |
| June 9 - 14 (TBD) | 18 & Older | $1,000 |
| June 16 - 21 (TBD) | 18 & Older | $1,000 |
| June 23 - 28 (TBD) | 14 - 21 | $1,000 |
| June 30 - July 5 (TBD) | 18 & Older | $1,000 |
| July 7 - 12 (TBD) | 18 & Older | $1,000 |
| July 13 - 18 (TBD) | 18 & Older | $1,000 |
| July 21 - 26 (Oshkosh EAA) | 18 & Older | $1,000 |
| July 28 - August 2 (TBD) | 18 & Older | $1,000 |
Wisconsin Dells
Take a trip with camp to the Waterpark Capital of the World and one of the best vacation spots Wisconsin has to offer! Join us for an action packed adventure where we will visit an indoor waterpark, House on the Rock, and even go to a magic show! No trip to the Dells is complete without an original Duck's land and water tour of the city, and of course shopping in their famous downtown area! Fee is $1,000.
Black River Falls, WI
If you enjoy fishing, canoeing, hiking, sleeping outdoors, and meals cooked over a campfire, then this trip is for you! S'mores are included! Join Camp on a week-long camping excursion in the great outdoors! Campgrounds are located in Black River Falls, WI. **This trip is for male campers only. Fee is $1,000.
Iowa Spa Excursion
Ladies prepare yourself for a relaxing week full of spa experiences! Prepare yourself for a week full of manicures, pedicures, make-up, hair styles, and so much more! Get excited to enjoy all the beautiful city of Dubuque has to offer. **This trip is for female campers only. Fee is $1,000.
St. Louis, Missouri
Join camp for our first trip to St. Louis where we will visit the tallest man-made national monument in the United States, The Gateway Arch! Trip includes an overnight stay in Mark Twain's hometown of Hannibal, MO where we will tour his childhood home. Other fun attractions may include a Chocolate Factory Tour, tour of Cardinal's Stadium, or perhaps even the World Chess Hall of Fame! Fee is $1,000.
Omaha, Nebraska
Join camp for another first, a trip to Omaha, NE! Campers will travel to the Cornhuskers state where they will get the opportunity to visit the Henry Doorly Zoo and Aquarium, home to the world's largest indoor rainforest and desert ecosystem. Our visit to Omaha may include other historic landmarks and museums, such as the Durham Museum, a guided tour of the Mormon Trail Center, as well as a visit to "Bob", the 3,000 ft magic trick cable suspension pedestrian bridge. Fee is $1,000.
Madison, WI
Week 6: July 14-19 (Madison, WI) Ages 18+. This trip will feature tours of some of Wisconsin's most iconic architecture: The State Capitol, Olbrich Botanical Gardens and the Monona Terrace. If we are able, we'll also be able to attend a show at the Overture Center for the Arts. This trip will be packed with adventure, so make sure to bring your walking shoes! Fee is $1,000.
Oshkosh EAA
Did you know that for just 5 days out of the year, Oshkosh, WI has the busiest airport in the world?! Come experience it for yourself as we spend two days exploring the 100's of exhibitors, 1000's of planes and daily workshops to choose from at Experimental Aircraft Association (EAA) AirVenture. While an Air Show is a must, other activities during this trip may include a tour of the National Airplane Museum, shopping at the Outlet Mall and more! Fee is $1,000.
Sioux Falls, South Dakota
Head with Camp to the "Mount Rushmore State!" Once we arrive in the biggest city in South Dakota, we may explore the famous Falls Park, the Great Plains Zoo, and the Butterfly House & Aquarium! If we get the chance, we will visit the Olde Towne Dinner Theater. Join camp for our first trip to South Dakota, it's sure to be one for the books! Fee is $1,000.
Questions?
Contact us with any questions regarding our Travel Programs. 608-348-9689
See our Facilities page for map to our Summer Badger Camp location.