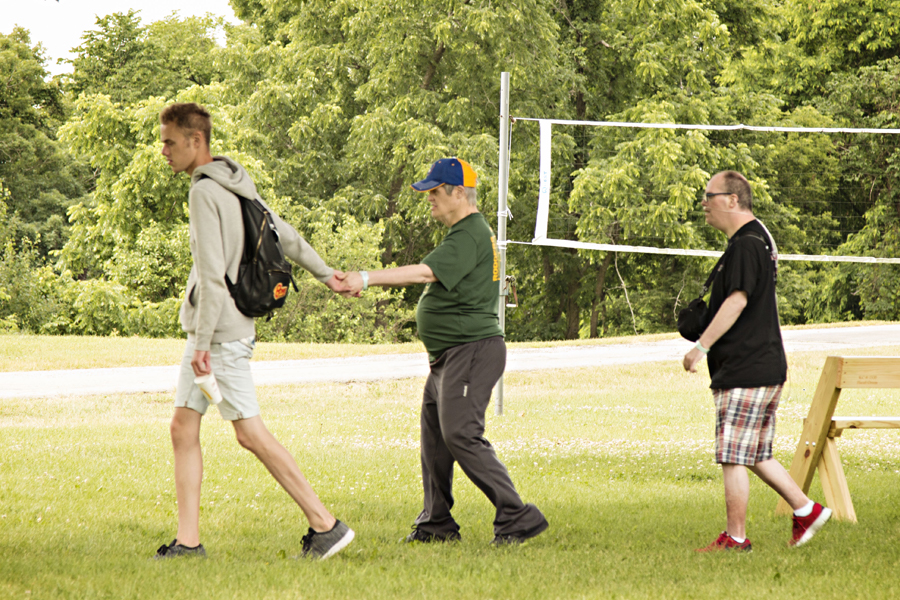 In addition to the Main Camp programs, Badger Camp offers a Travel Program.
The Travel Program offers a variety of overnight trips both in Wisconsin, and in surrounding states. Each trip is limited to 6 campers per session and are guided by 2 experienced staff members. Campers that participate in both Primitive Camp and the Travel Program must be ambulatory, and require little assistance in most of their activities of daily living, personal care needs, and are generally more independent than campers that attend Main Camp Programs. These programs were designed for those  looking for a unique and somewhat more challenging experience. If you have questions regarding your camper, and if they would benefit from Travel or Primitive camp programming please contact our Camp Director, Katelyn Carr, and she will answer any questions you may have.
Important Information Regarding Travel Camp Fees: Due to the uniqueness of the Travel Camp Program the payment of the requested Camp Fee is essential from each camper in order to break even with costs for the program.  Therefore. any campers that choose to attend any of the Travel Camp Programs are NOT eligible for campership aid, and MUST pay the entire camp fee in full. Any remaining balances from previous summers must be settled before being registered for a Travel Camp.
2019 Camp Dates

| Dates/Program | Age | Cost |
| --- | --- | --- |
| June 9 - 14 | Dubuque & Dyersville, IA | 18 & Older | $1,000 |
| June 16 - 21 | Boone, IA | 18 & Older | $1,000 |
| June 23-28 | Kansas City, Missouri | Teen Week | 14 - 21 | $1,000 |
| June 30-July 5 | Fox Cities, WI | 18 & Older | $1,000 |
| July 7-12 | Apostle Islands | 18 & Older | $1,000 |
| July 13-18 | South Bend, Indiana | 18 & Older | $1,000 |
| July 21-26 | Oshkosh EAA | 18 & Older | $1,100 |
| July 28-August 2 | Lake Geneva, WI | 18 & Older | $1,000 |
Dubuque & Dyersville, IA
Join us as we visit what is known as the "Masterpiece on the Mississippi" as we travel to Dubuque, IA. Where campers will have the opportunity to board the American Lady and enjoy a lunch cruise and learn more about the historic Mississippi River. Followed by exploration of the Mississippi River and it's history on land at the National Mississippi River Museum. Campers will round up their last day of travels in Dyersville, IA known as the "Farm Toy Capital of the World" and will visit the historic Farm Toy Museum. Finally. campers will be asking "Is this heaven? -No it's Iowa" when they visit the Field of Dreams Movie Site. Fee is $1,000.
Boone, IA
Know a camper who is quite the train enthusiast?! Well then they won't want to miss this trip as we travel to Boone, IA where campers will board the historic "City of San Francisco" or  "City of Los Angeles" cars for a ride on the Boone & Scenic Valley Railroad on their "Wolf Picnic Train" excursion. Followed by a tour of the James H. Andrew Railroad Museum. Other exciting attractions include a day touring the 500-acre interactive "Living History Farms" telling the 300+ year story of how Iowans transformed the Midwest prairies into some of the most productive farmland in the world. Fee is $1,000.
Kansas City, Missouri
Join camp for our first trip to Kansas City where campers will spend a day exploring the highly acclaimed Lego Land & Sea Life Aquarium! Other Kansas City destinations include the famous Kansas City Zoo, and Paradise Park–where campers will have the opportunity to play bumper cars, mini golf, laser-tag, and enjoy the "foam factory".  Trip includes an overnight stay in Des Moines, IA to break the trip in half and will travel to some exciting destinations while staying overnight in the "Hartford of the West". Fee is $1,000.
Fox Cities, WI
Join us in celebrating Independence Day with a trip to Wisconsin's Fox Cities! Trip will include a visit to Mulberry Lane Farm, Badger Sports Park, visit the Farmers Market, see an exciting exhibit on the history of guitars at the Museum at the Castle, and so much more. Fourth of July festivities will be celebrated by visiting the "Community Fest" where they will attend a PJ dance party at Shattuck Park before watching the famous Parade of Lights! Fee is $1,000.
Apostle Islands
Ahoy! Join us for a gorgeous sight seeing adventure to the Apostle Islands. Where campers will ride the Madeline Island Ferry and tour the Bayfield Maritim Museum, and adventure through all the islands have to offer. A shipwrecks, rocks, and lighthouse cruise will surely be one of the highlights of this trip–especially for any pirate enthusiasts out there! Campers will stay in a beautiful 5 Bedroom home within walking distance from the scenic shores of Lake Superior, located in the quaint city of Washburn, WI. Fee is $1,000.
South Bend, IN
Join us as we travel to another first time destination to the hometown of the Fighting Irish! Where campers will have the opportunity experience the Potowatomi Zoo, featuring over 450 animals and is the oldest zoo in Indiana! Those with a sweet-tooth will enjoy a tour of the South Bend Chocolate Company. Have the opportunity to attend a South Bend Cubs baseball game, and ride on a horse-drawn carriage ride on the Studebaker-Bendix Heritage Trail which takes you on a path highlighting some of South Bend's influential titans of industry. As well as many other exciting tourist destinations. Fee is $1,000.
Oshkosh EAA
Did you know that for just 5 days out of the year, Oshkosh, WI has the busiest airport in the world?! Come experience it for yourself as we spend two days exploring the 100's of exhibitors, 1000's of planes and daily workshops to choose from at Experimental Aircraft Association (EAA) AirVenture. While an Air Show is a must, other activities during this trip may include a tour of the National Airplane Museum, shopping at the Outlet Mall and more! Campers that are interested will have the opportunity to go on a five minute helicopter tour of the infield at the airshow! Fee is $1,100 (please be aware that the cost of this trip is higher than others).
Lake Geneva, WI
Theatre enthusiasts look no further, this is the trip for you! Join us on a trip to the beautiful Lake Geneva where campers will be surrounded by several critically acclaimed shows! Campers will have the opportunity to attend the famous Tristan Crist Magic Theatre show as it opens its doors in Lake Geneva this summer. As well as the Dancing Horses show, accompanied by a Animal Garden and Petting Zoo experience prior to the show, ending with a backstage tour and chance to meet the cast and performers! Other attractions include a visit to "Old World Wisconsin", a "Sundowner Tour" on the Lake Geneva cruise line, and much more! Fee is $1,000.
Questions?
Contact us with any questions regarding our Travel Programs. 608-348-9689
See our Facilities page for map to our Summer Badger Camp location.