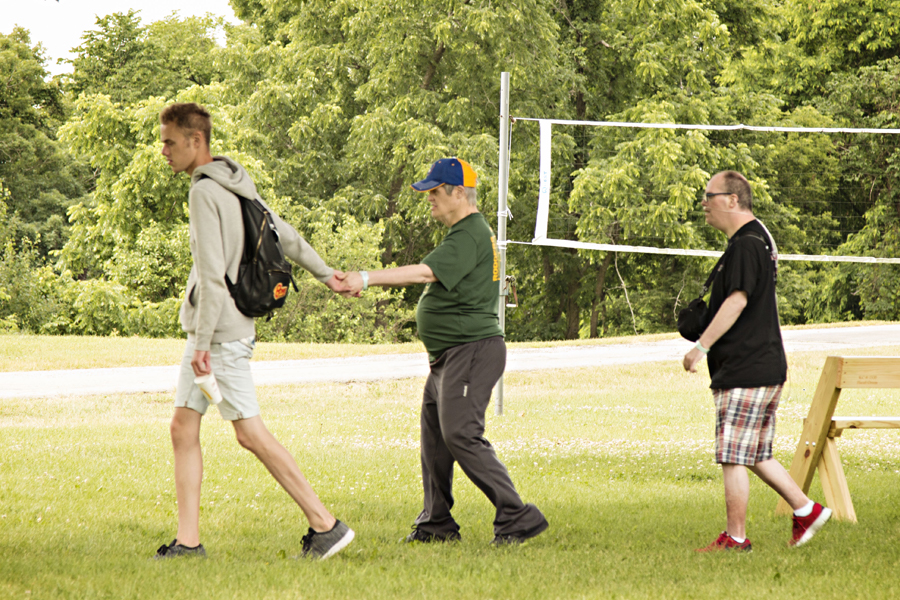 In addition to the Main Camp programs, Badger Camp offers a Travel Program.
The Travel Program offers a variety of overnight trips both in Wisconsin, and in surrounding states. Each trip is limited to 6 campers per session and are guided by 2 experienced staff members. Campers that participate in both Primitive Camp and the Travel Program must be ambulatory, and require little assistance in most of their activities of daily living, personal care needs, and are generally more independent than campers that attend Main Camp Programs. These programs were designed for those  looking for a unique and somewhat more challenging experience. If you have questions regarding your camper, and if they would benefit from Travel or Primitive camp programming please contact our Camp Director, Katelyn Carr, and she will answer any questions you may have.
Important Information Regarding Travel Camp Fees: Due to the uniqueness of the Travel Camp Program the payment of the requested Camp Fee is essential from each camper in order to break even with costs for the program.  Therefore. any campers that choose to attend any of the Travel Camp Programs are NOT eligible for campership aid, and MUST pay the entire camp fee in full. Any remaining balances from previous summers must be settled before being registered for a Travel Camp.
2020 Camp Dates

| Dates/Destination | Age | Cost |
| --- | --- | --- |
| W1: Dyersville/IA Excursion - (June 11-16, 2023) | 18 & Older | $1000 |
| W2: La Crosse - (June 25-30, 2023) | 18 & Older | $1000 |
| W3: Lake Wisconsin/Baraboo - (June 18-23, 2023) | 14 – 21 (Teen Week)*** | $1000 |
| W4: Milwaukee - (July 02-07, 2023) | 18 & Older | $1000 |
| W5: Minneapolis/Mall of America- (July 09-14, 2023) | 18 & Older | $1000 |
| W6: The Apostle Islands - (July 15-20, 2023) | 18 & Older | $1000 |
| W7: EAA Airventure/Oshkosh - (July 23-28, 2023) | 18 & Older | $1000 |
**Descriptions will be updated as Experiences are booked/planned**
Dubuque & Dyersville, IA
Join us as we visit what is known as the "Masterpiece on the Mississippi" as we travel to Dubuque, IA. Where campers will have the opportunity to board the American Lady and enjoy a lunch cruise and learn more about the historic Mississippi River. Followed by exploration of the Mississippi River and it's history on land at the National Mississippi River Museum. Campers will round up their last day of travels in Dyersville, IA known as the "Farm Toy Capital of the World" and will visit the historic Farm Toy Museum. Finally. campers will be asking "Is this heaven? -No it's Iowa" when they visit the Field of Dreams Movie Site.
Fee is $1,000.
Omaha, NE
Take a walk on the wild side as we visit this gem of a city. We will visit one of the world's best zoos, Omaha's Henry Doorly Zoo & Aquarium where we will see the worlds largest indoor rainforest and the worlds largest indoor desert! We will take a trip to see Bob, the 3,000ft long foot bridge and believe it or not, the middle of the bridge connects Nebraska and Iowa! We will also get the opportunity to visit freedom park, a US Naval museum on the Missouri River and plenty more attractions!
Fee is $1,000.
St. Louis, MI
Join us to get a bird's eye view from the top of the gateway arch! Towering over the city at a 630-foot ride to the top of the world-famous stainless-steel monument we will be able to see the whole city. Home of the Cardinals baseball team, we plan on taking a tour of beautiful Busch Stadium. There is a little "mad scientist" in all of us and so another journey of ours brings us to the Saint Louis Science Center where imagination is brought to life!
Fee is $1,000.
Apostle Islands
Ahoy! Join us for a gorgeous sight seeing adventure to the Apostle Islands. Where campers will ride the Madeline Island Ferry and tour the Bayfield Maritim Museum, and adventure through all the islands have to offer. A shipwrecks, rocks, and lighthouse cruise will surely be one of the highlights of this trip–especially for any pirate enthusiasts out there!
Fee is $1,000.
Milwaukee, WI
Roll out the barrel for this one because this trip is going to be great! While visiting the beautiful city of Milwaukee we will get the chance to tour the stadium we all know and love, The Milwaukee Brewers Stadium- Miller Park. Putting our mind to work, visiting Discovery World will teach us amazing things about the universe as we know it! Visiting the Mitchell Park Domes will awe any traveler on this journey while we explore the diverse and beautiful life inside the domes. Stay tuned for many more exciting adventures planned on this trip!
Fee is $1,000.
Minocqua, WI
How fast can you chop? Well at Fred Scheer's Lumberjack Show they will definitely chop faster than you can! This trip will be full of lots of entertainment including the Min-Aqua Bats Water Ski Club, Lumberjacks and even a Safari! We will get a chance to visit the Wildwood wildlife park and nature center where we will go on a Safari and experience the largest interactive petting zoo in Wisconsin. The beautiful views of the Northwoods will feel like you're in a whole new world!
Fee is $1,000.
Oshkosh EAA
Did you know that for just 5 days out of the year, Oshkosh, WI has the busiest airport in the world?! Come experience it for yourself as we spend two days exploring the 100's of exhibitors, 1000's of planes and daily workshops to choose from at Experimental Aircraft Association (EAA) AirVenture. While an Air Show is a must, other activities during this trip may include a tour of the National Airplane Museum, shopping at the Outlet Mall and more! Campers that are interested will have the opportunity to go on a five minute helicopter tour of the infield at the airshow!
Fee is $1,100 (please be aware that the cost of this trip is higher than others).
Duluth, MN
Dubbed the "Best Outdoor City in America" and the "Craft Beer Capital of Minnesota," Duluth has long been a destination for its great outdoor activities, unique arts and culture, delicious dining and much more along the North Shore of Lake Superior. S.S. William A. Irvin Ore Boat Museum will be one of our many stops on this great adventure! The great Lakes Aquarium is another one of our amazing and interactive activities for this week.
Fee is $1,000.
**Experiences are subject to change due to weather or other circumstances**
Questions?
Contact us with any questions regarding our Travel Programs. 608-348-9689
See our Facilities page for map to our Summer Badger Camp location.