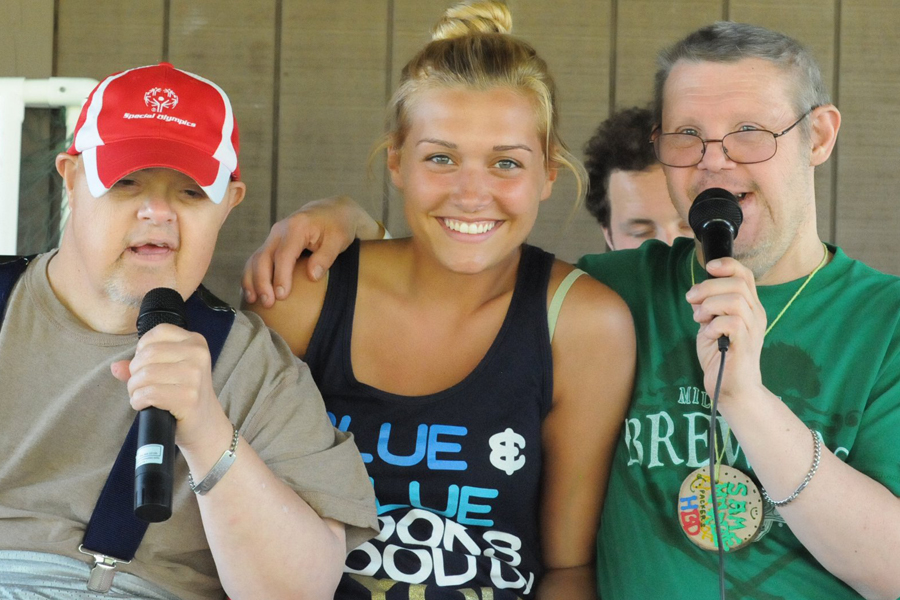 Each summer, Wisconsin Badger Camp hosts eight one-week sessions and one two-week session specially tailored to meet the needs of each camper. The sessions are separated according to age with eight weeks planned for adults, one week for children (ages 3-13) and one week for teen campers (ages 14-21).
Online Camper Application for 2019, Physician Examination Form, and other information are included on our Applications and Forms pages.
All individuals with developmental disabilities (ages 3 and older) are welcome regardless of the severity of their disability, race, religion, creed, geographic location, sex, age, or national origin. Our well-trained staff work with campers who have epilepsy, Down syndrome, cerebral palsy, autism, use wheelchairs, wear braces, are visually or hearing impaired, or experience other developmental disabilities. A current physical and physician's approval to participate are required. Financial assistance is available.
All programs are carefully designed to be adaptable and to encourage participation. As with all operations at Wisconsin Badger Camp, the programs are planned with safety as the number one priority. Wisconsin Badger Camp offers a variety of programs, which will appeal to all sorts of interests. Please carefully read through the descriptions of each camp to determine which program best fits the needs and abilities of the camper.
Contact us with any questions regarding any of our Summer Camp Programs. 608-348-9689
See our Facilities page for map to our Summer Badger Camp location.