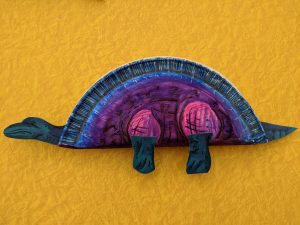 Activity Name: Paper Plate Dinosaur
Introduction: Dinosaurs capture the imagination and are a great way to explore nature, history and how things have changed. Making a dinosaur with crafts can be done in a million different ways, and this way takes only a few household items to complete.
Size of Group: Any
Objective: Project completion, following instructions, creativity
Description: Flip paper plate and utilize paints or markers to draw and color in the body design of the dinosaur. Use the edge of the plate to design the spikes or "plates" on the back of the dinosaur. Once completed, fold plate in half and glue shut. Next cut out spines from construction paper, color and glue to back. Do the same to make feet, head and tail. Use white construction paper to cut out eyes and teeth at discretion.