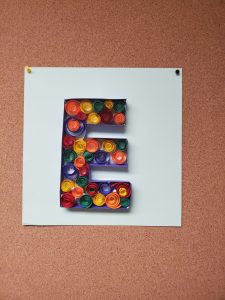 We found this art type unexpectedly scrolling through the internet and one of the pieces was being sold for about $70. Do you think ours is worth that?
Size of group: 1-2
Supplies needed: Construction paper or Card Stock cut into 1/2 inch strips, Glue, Something small and round such as a colored pencil, A letter in mind to make a design or a shape, One piece of firm card stock.
Objective: Fine motor skills, creativity, patience, project completion, Self Confidence in art skills.
Directions:
The first thing you want to do is take your single piece of card stock and trace your letter with a light pencil line and shape so that you can stand a few of the strips of paper up on edge to outline the entire shape. You might have to hold the edges up for a little bit so the paper does not keep falling over but once the glue becomes tacky then it will stay up on its own.
Now you want to take the time to roll up all of your strips of paper (we did it while we went instead of all at once). To do this it is easiest to use your colored pencil and wrap the paper around it.  When you are done with that you can either put glue on the bottom of each spiral piece and glue it down in random places and fill the entire space. You can also put the glue on the paper and just press the spirals down so you do not have to glue each and every one. Some spirals need to be smaller and some will be larger so the longer you hold the spiral on the pencil the tighter it will wrap and be smaller in size and the less time wrapping it will result in a larger spiral.
Gluing the pieces near the edge to the sides will also result in a nicer cleaner design. Once finished, it is best to let your design dry before moving it around too much or trying to hang it.
What other shapes would you like to see us try and do? Email arist@badgercamp.org with your designs and or what you would like to see us do!