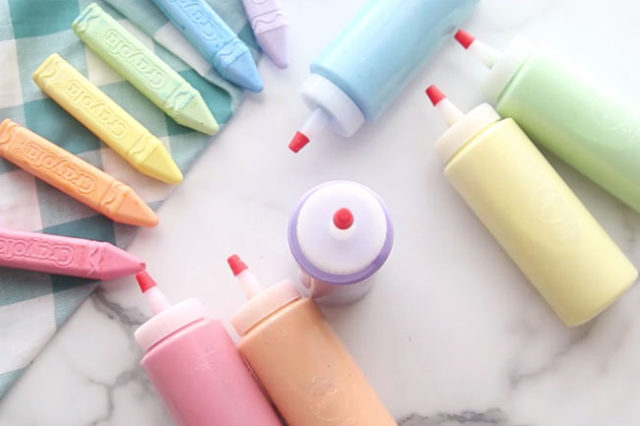 thebestideasforkids.com/spray-puffy-paint
Activity Name: Squeeze Bottle Chalk
Introduction: Sidewalk chalk is an activity that appeals to a large spectrum of ages. It's an activity that encourages individual as well as group creativity.
Size: ANY
Supplies: 6 squirt bottles (preferably the clear plastic versions of the ones you might see in a restaurant), food coloring, baking soda, vinegar, corn starch, funnel (optional).
Objective: creativity, hands-on learning and activity, outdoors activity.
Description: Fill 3 of your squirt bottles 2/3 full of corn starch and baking soda. Follow by adding a few drops of food coloring then top off the bottles with water. Stir the ingredients thoroughly at this point. (NOTE: a butter knife works well for this tasks.) Next, put on caps and shake well to create the desired viscosity. Finally, fill remaining squirt bottles with vinegar for clean-up.