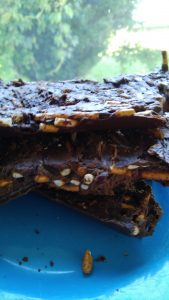 Activity Name: Salty Chocolate Bark
Introduction: The best food ideas bring together flavors, textures and aromas to make something new. Salty chocolate bark gives the bitter sweetness of chocolate and cherries with the saltiness of pretzels for an unforgettable taste.
Size: Serves 24
Supplies: 24 oz. of dark chocolate chips, ½ cup pretzels, ¼ cup dried cherries or raisins, sea salt flakes.
Objective: project completion, following instructions and hands-on work.
Description: Line a baking sheet with parchment paper, then melt the dark chocolate on the stove or in the microwave. Spread chocolate in an even layer on the parchment with a spatula. Cut or break pretzels into pieces and sprinkle with raisin/dried cherries and salt onto the top of the chocolate. Let bark cool for 1 hour then break into pieces and store into sealed bags.