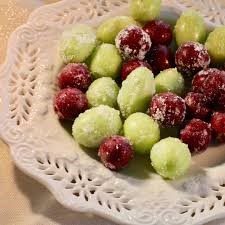 Activity Name: Frozen Grape Treats
Introduction: We all need to eat our fruits and vegetables, and sometimes it's a hard sell to make that happen. This is a different twist on the usual fruits to keep participants engaged in making better food choices.
Size: Any
Supplies: Seedless grapes of any kind, ¼ cup sugar per cup of grapes used.
Objective: Promote healthy eating, group activity and following a list of instructions.
Description: Remove all grape stems and pluck grapes from vine and wash thoroughly. Then place grapes into sealable bags and pour in sugar before gently shaking to coat grapes. Remove grapes and place on paper towels to remove surface moisture. Then place on a lined baking sheet and freeze for 2 hours.