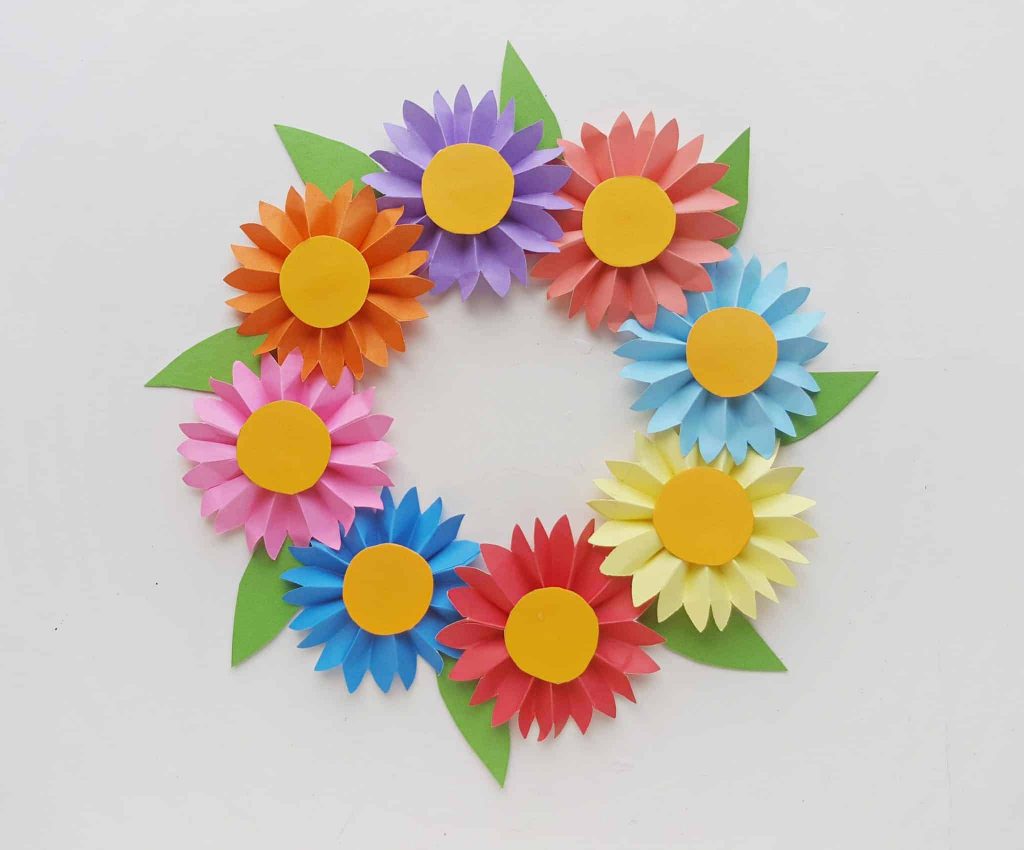 Since we are at home so much lately, making our house prettier is a good idea as we have time to do so! Here is a simple Wreath to do while you have some extra time. You can make this wreath flowery or to spread hope during COVID-19, why not make them hearts!
Size of Group: Any
Materials Needed:
Craft paper – 5-6 colors including green
Cardstock paper – any color, for the wreath base
Pencil or pen – for tracing the template
Scissors
Craft glue or glue stick
Description:
Select a colored craft paper for the flower and cut a 12 inches long strip (1 to 2 inches wide).
Create small and even accordion folds on the strip.
Create zigzag patterns along any one sides of the folded strip. Use the folds as guides for each zigzag.
Use craft glue to join both sides (width) of the accordion folded strip. Now we have an accordion folded roll.
Hold the plain side of the roll and press it towards the center.
Flatten the roll by holding all the folds of the plain side and pressing them towards the center.
Cut out 2 round shapes from yellow colored papers and glue one of those on the center of the pressed paper.
Similarly glue the other circle on the other side of the paper to secure the flattened piece (accordion folded).
Similarly, create more flowers to make the wreath. I made 8 flowers for the wreath.
Trace and cut out leaf patterns from green colored craft papers.
Determine the size of the wreath and cut out a round base of at least 2 inches width.
Start to glue the flowers on the base first. Make sure that the color combination of the flowers is nice.
Done adding all the flowers? Now glue the leaves between the flowers, on the base.
Allow the glue to dry once you are satisfied with the pattern. Attach a hanging mechanism at the back side and done!